There's a good chance you've heard of the Mediterranean diet, and if you have a chronic condition such as heart disease or hypertension, there's an even better chance that your doctor has prescribed it to you. The diet consists of mainly fruits and vegetables, beans, nuts, whole grains, fish, olive oil, a small amount of dairy, and red wine. The diet is often promoted to decrease the risk of heart disease, depression, and dementia. But what does science have to say about all of this? 
First things first, let's talk about how the Mediterranean diet works. The Mediterranean diet is a primarily plant-based eating plan that includes a daily intake of whole grains, olive oil, fruits, vegetables, beans, and other legumes, nuts, herbs, and spices. Other foods like animal proteins are eaten in smaller quantities, with the preferred animal protein being fish and seafood. What's interesting about this diet is that it does not specify portion sizes or specific amounts. In fact, it's entirely up to the individual to decide exactly how much food to eat at each meal, which varies. Other things that make this diet unique:
There is a major emphasis on healthy fats. Olive oil replaces butter and margarine, and avocados, nuts, and oily fish like salmon and sardines are foods you're after. 
Red meat is limited to a few times per month with fish being the preferred animal protein. 
Water is preferred, but wine is acceptable with meals. 
Daily activity is encouraged, but through activities you enjoy. 
Research has consistently shown that the Mediterranean diet is effective in reducing the risk of cardiovascular diseases and overall mortality. [3, 4] A study of nearly 26,000 women found that those who followed this type of diet had 25% less risk of developing cardiovascular disease over the course of 12 years. [5] The study examined a range of underlying mechanisms that might account for this reduction, and found that changes in inflammation, blood sugar, and body mass index were the biggest drivers.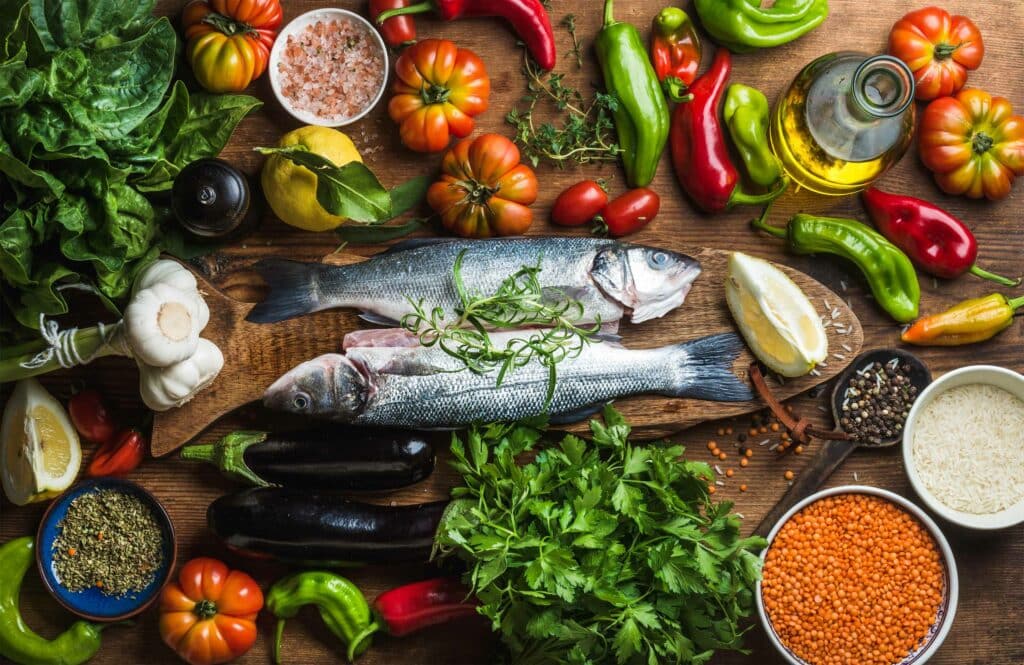 There has also been increased interest in the diet's effects on aging and cognitive function. [9–11] Cell damage through stress and inflammation that can lead to age-related diseases has been linked to a specific part of DNA called telomeres.
Another Nurses' Health Study following 10,670 women ages 57-61 observed the effect of dietary patterns on aging. [13] Healthy aging was defined as living to 70 years or more, and having no chronic diseases (e.g., type 2 diabetes, kidney disease, lung disease, Parkinson's disease, cancer) or major declines in mental health, cognition, and physical function. The study found that the women who followed a Mediterranean-type eating pattern were 46% more likely to age healthfully.