At one time or another, we've all suffered from some sort of ailment, and at that moment we are beyond thankful for modern medicine. But what about the days before medications were regulated? What, everyone just did drugs and alcohol about it? If you think this sounds like something people would have done, then you're absolutely right, but they did so unknowingly, and also they were children. Throughout the 19th century, it wasn't uncommon to have medications out that had been developed to calm fussy babies. Another thing that wasn't uncommon? These medications being laced with opiates and alcohol. Of these soothing medications, Mrs. Winslow's Soothing Syrup was one of the most successful.
The concoction was created by Charlotte Winslow, a pediatric nurse, and was considered a patent medication meaning that while it was being marketed in the U.S. it wasn't actually deemed safe. An advertisement at the time claimed, "it soothes the child, softens the gums, allays the pain, cures wind, colic, and is the best remedy for diarrhea." And while, yes, this soothing syrup kinda sorta worked, it contained 65 mg. of morphine per ounce, as well as alcohol. One teaspoon contained enough morphine to kill the average child, which eventually led to the nickname: the baby killer.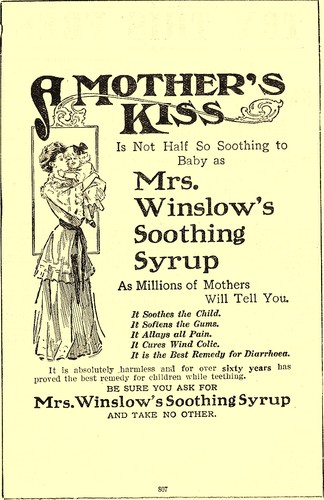 This soothing syrup was widely popular for a time, and because many caregivers were not linking the child deaths to the syrup, there is no official statistic referring to how many deaths were caused by the syrup, though estimates are in the thousands of babies that died of addiction or suffering from withdrawals. It's important to note that at this time bottled elixirs were seen as modern and painless in comparison to the alternative, which was known as bleeding where doctors would split babies gums open with a scalpel to "relieve", or rather attempt to relieve teething pain, which added to the popularity of the elixir.
Eventually, Mrs. Winslow's Soothing Syrup was forced to remove its deadly ingredients such as morphine, nor could it be marketed as "soothing". Despite the negative coverage this elixir started to get, it was sold well into the 1930s though the formula and marketing strategies had changed quite a bit.
Thousands of children lost their lives during this time, but these weren't deaths that simply got swept under the rug, in fact, doctors and journalists began working together to make sure people were aware of what was happening and how many families were suffering. In the end, while this was a tragic part of history, it led to important changes regarding drug regulations to ensure nothing like this would happen again.