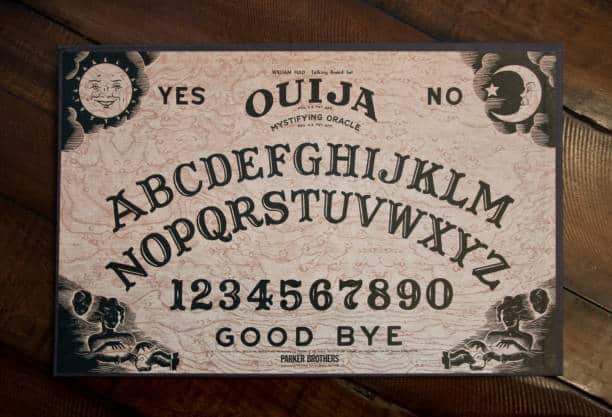 Picture it: it's a dark and stormy night and a few friends are over to watch scary movies. The wine is flowing, the snacks are on point, and someone asks if you still have that ouija board from all of your old junior high sleepovers. And like any functioning adult, of course you do. You dig it out, you turn the lights down, light every candle you own, the TV goes off, everyone takes one final gulp of wine, all hands in, and… SPOILER ALERT: it's not ghosts controlling the planchette, but there is a certain science behind it and that is what we're here to talk about. Does it get any better than spooooky science? We don't think so. 
Now we wouldn't be surprised to find out that a large number of people haven't used a Ouija board and that probably has a lot to do with the fact for years and years people thought you could summon demons and bad spirits with them. And while this makes for a fun and easy way to spook yourself and your friends, what really happens when you circle 'round the board actually makes a lot of sense. The idea behind using a Ouija board is that you summon spirits to communicate with; you ask them questions, they spell out the answer, then eventually tell you goodbye. 
Are you ready for that simple scientific explanation?
Are you sure?
Okay. 
The mechanism that controls the Ouija board is known as the ideomotor effect, which is basically just a term for your body talking to itself in the form of involuntary, unconscious physical movement. Kinda like when you fall asleep and jerk yourself awake, that is just an extreme version of the ideomotor effect. When it comes to a Ouija board your brain is busy unconsciously creating images and memories when you ask the board questions, then your body responds by way of moving the muscles in your hands and arms that are conveniently placed on the planchette, creating a spooky experience for everyone. An example of this is if you ask the "spirit" what its name is and the planchette movies to the letter "R", then "O", you're already thinking "Robert". And so is everyone else. And that is what is more than likely going to be spelled out. A number of studies have been conducted proving time and time again that ouija boards fully rely on our bodies.