Remember that episode of The Office when Dwight asks everybody to write down their medical conditions? And Jim and Pam made up a fictitious Count Choculitus disease? Well, we aren't here to tell you Count Choculitus is real, but we are here to tell you that there are some cuh-razy medical conditions out there and we're here to talk about 'em. Let's get started! 
Alien Hand Syndrome
No, your hand doesn't start turning green or morph into one giant hand with three fingers or anything crazy like that, though that would be cool. Those with Alien Hand Syndrome experience involuntary hand movements, that seem purposeful or functional, but sometimes they're incredibly dangerous, in fact, doctors have reported patients have gone so far as to strangle themselves. They may also feel as though their own hand isn't a part of their body. The most common causes of AHS include strokes and brain tumors; treatments include botox, behavior therapy, and the art of distraction (by having the affected hand hold an object.)
Walking Corpse Syndrome
This is a neuropsychiatric disorder that causes a person to believe they are dead or missing organs, blood, or even body parts. But don't worry, this condition is extremely rare, and even the most severe cases can spontaneously recover completely. Because it is so rare, doctors aren't entirely sure what causes it and can only speculate how patients recover.
Alice in Wonderland Syndrome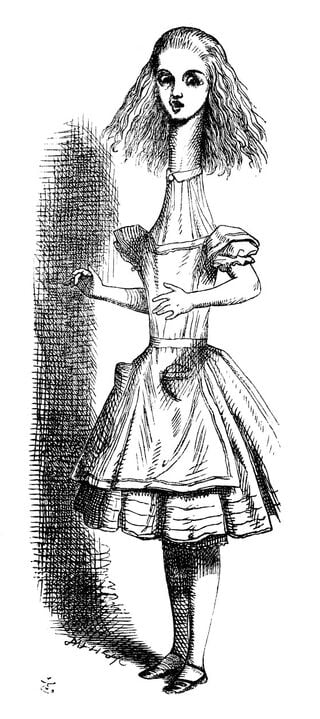 This is most common among patients that have both migraines as well as epilepsy, and people with this condition are more than likely to experience distorted vision or perceptions that make certain body parts feel bigger, smaller, or even taller or shorter than expected.
Foreign Accent Syndrome
Another rare condition, foreign accent syndrome causes people to develop a foreign accent. The disorder affects the part of the brain that processes speech. Having a stroke is the most common cause of this disorder, though trauma and tumors can also cause foreign accent syndrome. While speech therapy can help, some cases are so severe the foreign accents may never go away.
Flesh Eating Bacteria
This one is what nightmares are made of. Flesh-eating bacteria is exactly what it sounds like, a bacterial skin infection that eats away at soft tissue. What makes this bacteria so scary is how quickly it spreads and how deadly it can become; however, if caught early, it can be treated with antibiotics and surgery.