So most of us can probably agree that McDonald's fries are insanely delicious; just the right amount of salt, are we right? Another fact we can probably agree on is that there is a lot that goes into our food that is just plain terrible for us. Mcdonald's fries, believe it or not, are no exception, and in case you're unaware, you gonna learn today! Let's get into it.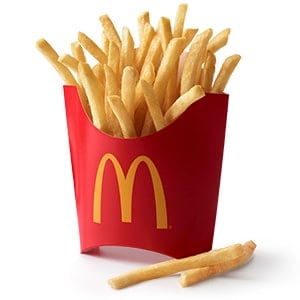 Vegetarian Friendly? Think Again.
While french fries may seem like a safe bet at any fast-food stop, that's simply not the case at McDonald's. There are 19 ingredients listed for McDonald's french fries (seriously, 19!), and one of those ingredients? Natural beef flavor. Now, the company has been called out a couple of times, but their response? They never claimed their fries were vegetarian and that anyone could request an ingredient list at any time. The kicker? At the time, the natural beef flavor was simply listed as a natural flavor. So you see how this was quite the debacle. Thanks to chemist Gary Reineccius we learned that in some cases natural beef flavor may still mean "vegetarian", but McDonald's fries are absolutely not vegan-friendly. We're off to a rocky start here, McDonald's.
Commercial Friendly
It's rare that anything looks like it does in the commercials, but aside from a few limp fries, have you ever noticed that McDonald's fries pretty much look the same in real life? We can all give a hearty "thank you" to chemicals for that. After fries are cut then to ensure they will all appear to be the same color, they're coated in sugar. From here, they're coated in sodium acid pyrophosphate to keep them from turning gray once they're frozen.
Not Like They Used To
Let's be honest, they used to taste different, right? Right! Prior to the early 90s, the fries were cooked in beef fat. But you know what else happened in the early 90s? We all started looking at nutrition labels a little more and worrying about things like saturated fats and cholesterol, so McDonald's started using vegetable oil instead. The beef fat was said to be the ingredient that made them so darn addicting, but as it turns out, we're still addicted.
Propaganda
No, McDonald's fries can't help you get pregnant, nor can they cure baldness.
But They Don't Rot
Most of us have probably encountered a display of McDonald's food from like, the 80s claiming it doesn't rot. And well, it's kinda true, but here's the thing, for things to rot, mold, or decay, ya gotta have moisture, and these foods are relatively dry so the process that occurs is simply dehydration. But stick it in a sealed Ziploc bag and you'll see a different process happen.