We're just out here doing our best to keep the bees happy. You could say we're doing it as if our lives depend on it because, well, they do. As we all make our way outside to enjoy the sunshine and fresh air and work on our gardens, here are a few ways you too can help the bees! 
Grow Things with Nectar and Pollen
Okay, kind of a no-brainer, but sometimes we go to our local greenhouse and just start grabbing. Make sure you nab a range of plants that will provide a continuous flower period, think March through September.
Go Full Cycle
Allow your herbs and veggies to flower even after your crops have finished. Sure, it's not super aesthetically pleasing, but the bees and other pollinators love it. Major bonus? After your herbs and veggies flower, the seeds will drop and you won't have to buy seeds for the next season.
Plant a Fruit Tree or Two
If you have the room, of course. But a lot of fruit trees are also totally capable of growing in a large pot. Bees love citrus trees the best because they flower for a long time, but they'll enjoy any fruit tree you offer. The best part? Because fruit trees flower for a long time, bees don't have to exert as much energy trying to find a sweet source. They can just kinda hang out around the fruit trees.
Have a Fresh Water Source
Any way that you can offer bees some fresh water is a good idea. A bird bath with large stones, a backyard waterfall, a dripping hose, and even the dew on cabbage and broccoli leaves will do the trick.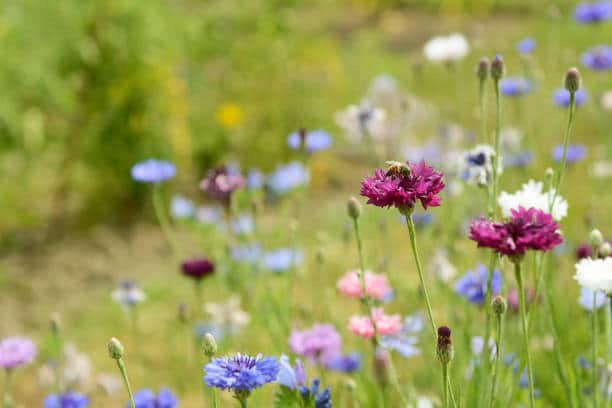 Just Say 'No' to Pesticides, Herbicides, and Other Chemicals
When in doubt, leave it out. These things are harmful to bugs and other plants. If it's weeds that are the problem, devote some time to pulling them while you take in all the fresh air and sun rays.
Appreciate the Wild-Ness of It All
We know that a garden or front yard or backyard overgrown with weeds isn't the aesthetic most people are going for, but there is beauty in the wild. Plus, weeds support wildlife and that includes the bees. And hey, if you don't love pulling weeds, this is the perfect reason for letting it all grow wild.
Color Matters
Just like us, bees have favorite colors. But bees do see colors a little differently than we do. Opt for flowers that are of the blue, violet, yellow, and/or green variety. The one color bees don't love? Red.