The world is a big, scary place and we're here to prove it. Let's get started! And we're sorry in advance for any nightmares these facts may induce.
Exploding Head Syndrome is a thing that exists. People that have this syndrome have reported that as they're falling asleep they hear loud noises or experience the feeling of an explosion, some people say it even sounds like fireworks or gunshots. To put it simply, we absolutely cannot imagine.
You can't burp in space. You just can't. When you burp on Earth, gravity keeps down the solids and liquids from the food you just ate, so only the gas escapes from your mouth. In the absence of gravity, the gas cannot separate from the liquids and solids, so burping essentially turns into puking. (source)
Our stomachs can dissolve razor blades. So the next time you swallow one, don't panic we guess? (Please don't try this at home.)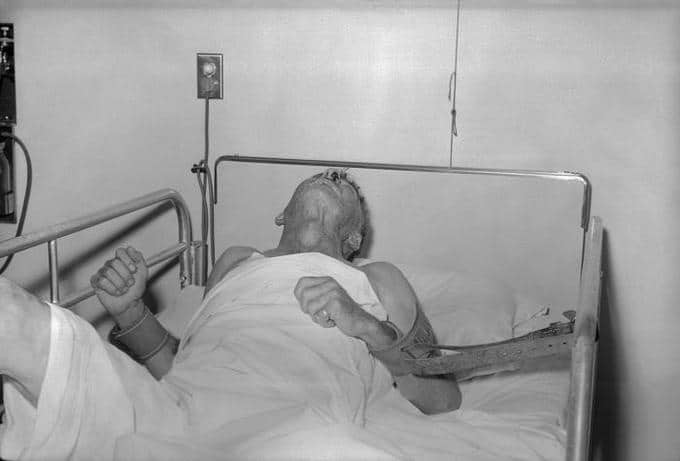 Once rabies symptoms appear, you have little to no chance of survival. Rabies is a viral infection that comes from mammals typically transmitted through a scratch or bite. In humans, the symptoms start off as flu-like symptoms, then days later the neurological symptoms appear. As the virus continues to spread people often experience hallucinations and confusion, followed by loss of motor function and an increase of saliva that gives folks that "foaming of the mouth" characteristic.
We have to let the experts explain this one:
"Einstein's famous equation is certainly one of the most brilliant and beautiful scientific discoveries – but it's also one of the most disturbing. The power explained by the equation really rests in the c², or the speed of light (186,282 miles per second) times itself, which equals 34,700,983,524. When that's your multiplier, you don't need much mass – a smidgen of plutonium is plenty – to create enough energy to destroy a city." (source)
Rats laugh when they're tickled. We don't know how we feel about this because on one hand it's very strange, and on the other hand, it's actually the cutest thing ever. 
Astronauts have to face extreme situations while in space and if you don't believe that then allow us to educate you. Astronaut Scott Kelly had to drink 730 liters of his own sweat and urine to keep hydrated. You're welcome.
Blue whales are the largest animals on earth growing up to 105 feet long and weighing up to 200 tons, but something we didn't know about blue whales is that they poop ping pong balls of breadcrumb-like consistency and we aren't sure what to think about that.