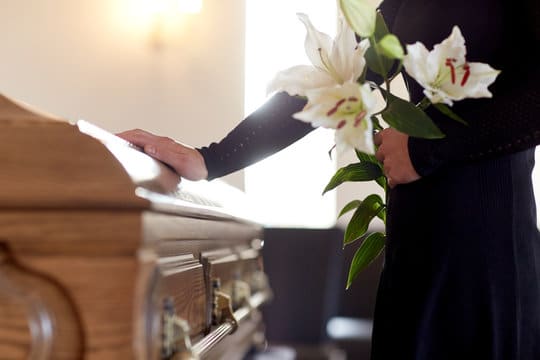 In its most literal term, mortuary science is the study of the dead. And while we understand the reason behind the skepticism surrounding this field, we're also intrigued by what this career entails. Let's not waste any more time, let's get into it. 
So, what exactly is mortuary science? As we mentioned above, it's the study of deceased bodies, but that's not all it is. Mortuary science focuses heavily on the respect of a burial, as well as the bereavement of families. Specifically, this entails the preparation of bodies for burial, emotions of the grieving process, and how to operate a funeral home. Folks that study mortuary science tend to pursue careers such as funeral director, mortician, or embalmer. 
What courses can a person expect to take if they're studying mortuary science? Psychology of death and dying, funeral service communication, accounting, funeral service management, funeral service law, funeral service history and merchandising, human biology, humans and disease, embalming, and restorative art among several others. 
So now we have a deeper understanding of what mortuary science is and what pursuing an education in the field will look like, now let's get to the wild things. Well, kinda. Wild to us, but probably just a typical day for a mortician.
One of the most important things a mortician does is "set the face", which is the process of creating that peaceful facial expression the dead tend to have. To achieve this look morticians stuff the throat and nose with cotton, then suture the mouth shut. Superglue is a secret weapon of theirs though.
There are a lot of fluids that come out of a body once everything has shut down. It's the embalming process that, err, stops the fluids.
A mortician doesn't drive a hearse to pick up a body, they do in fact, drive a soccer mom van. There just aren't any back seats for obvious reasons.
Caskets can explode. Allow us to explain. The buildup of methane gas can cause "exploding coffin syndrome", as it's known in the industry, and this means this built-up gas will blow the lids off of caskets and the doors off of crypts.
If someone passes away peacefully and their body has been laying there for a while say on their back, when a mortician has to turn the body for the first time, the air that was still in the lungs is let out, kinda like the person has come back to life for another moment.
Speaking of things that explode after you die, if you or someone you love has a pacemaker, make sure that gets removed before cremation because a pacemaker will explode like a tiny bomb.