3D printing is pretty awesome. In fact, growing up in the 90s and 2000s we never imagined that one day there would be the technology to print things like fidget spinners, car parts, and cases for our earbuds, yet here we are. And while we know this technology will only continue to improve over time, what if we told you that researchers are now looking into the pros and cons of 3D food printing? More specifically "will 3D food printing improve the ways we nourish ourselves? What sorts of hurdles will need to be overcome to commercialize such a technology?" Let's talk about it.
Science Daily reports that Columbia mechanical engineers are working to address these challenges in Professor Hod Lipson's Creative Machines Lab. Food printing technology has actually been a thing since around 2005, but until recently the technology was extremely limited, food has proven to be uncooked, and frankly, the dishes being served were not what anybody would want. According to SD, "researchers designed a 3D-printing system that constructs cheesecake from edible food inks — including peanut butter, Nutella, and strawberry jam. The authors note that precision printing of multi-layered food items could produce more customizable foods, improve food safety, and enable users to control the nutrient content of meals more easily."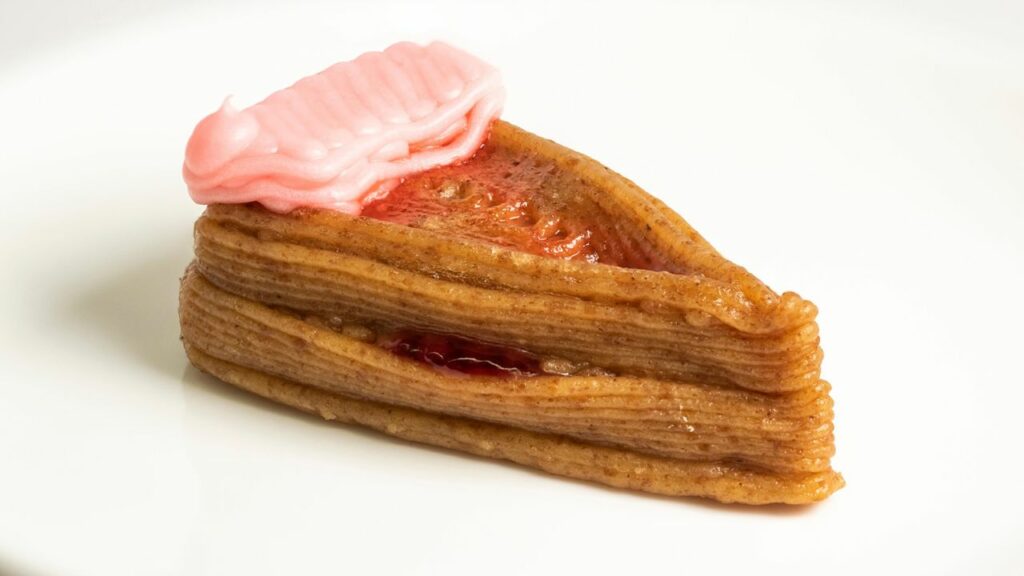 "Because 3D food printing is still a nascent technology, it needs an ecosystem of supporting industries such as food cartridge manufacturers, downloadable recipe files, and an environment in which to create and share these recipes. Its customizability makes it particularly practical for the plant-based meat market, where texture and flavor need to be carefully formulated to mimic real meats," Blutinger said.
The team has so far tested a number of cheesecake designs consisting of the following ingredients: graham cracker, peanut butter, Nutella, banana puree, strawberry jam, cherry drizzle, and frosting. We were not disappointed to find out that the most successful run they had used a graham cracker crust, peanut butter, and Nutella were the best supporting layers, and softer ingredients such as banana and jam could easily pool in the supporting layers.
The main issue researchers are struggling with now is how to make foods more nutritious. Right now, the foods from this project are highly processed, but there is still the silver lining of people getting to control and tailor what they eat. The ultimate goal is that chefs will get to create new food experiences and people with dietary restrictions, parents of young children, nursing home dieticians, and athletes can tailor their meals accordingly. There is still a lot of work to do, but we're happy to taste-test anything that involves chocolate.